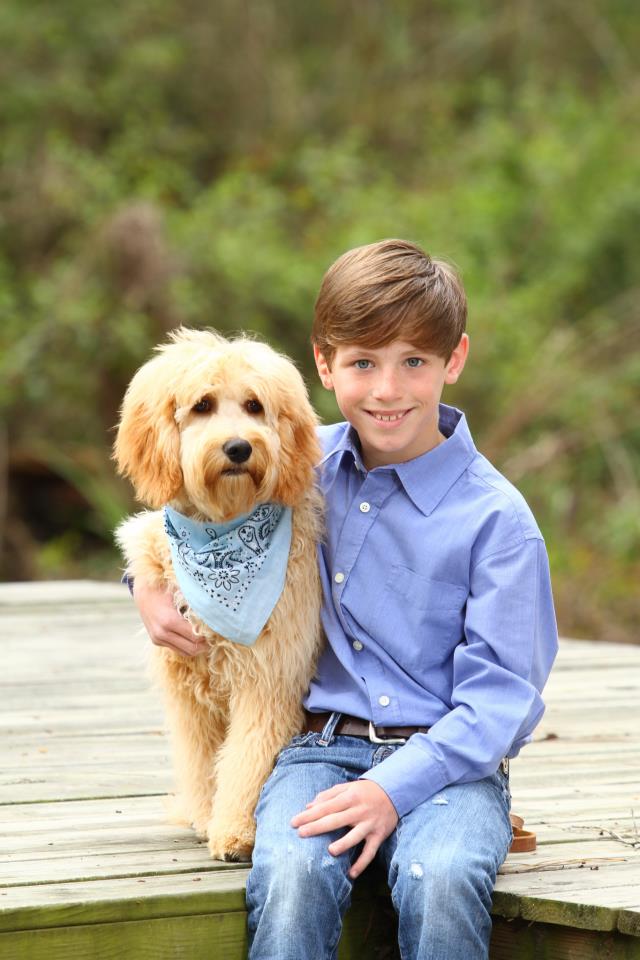 (Photo Below) Bohannon Family with Hank!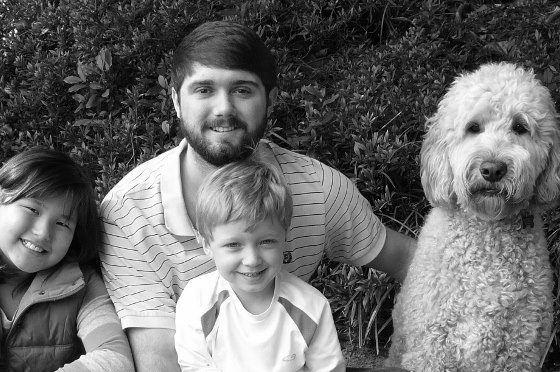 (Left Photo) Here is Sampson (@ 6 months old) with my son, Jackson. He is just precious! We love him SO much! He is going to have to get a Summer haircut soon, though. South GA heat is pretty tough on him! ~Kelli Strickland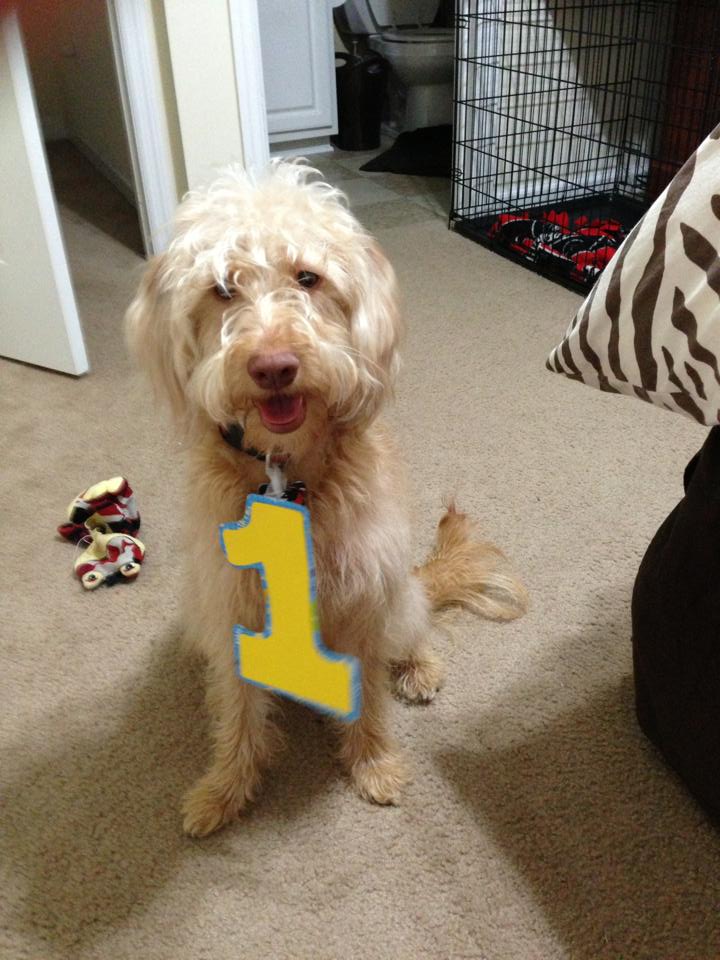 Munson celebrated his 1st birthday on Friday!!! Thank you so much for our fur baby!!! We couldn't be happier and neither could he! ~Jamie Hancock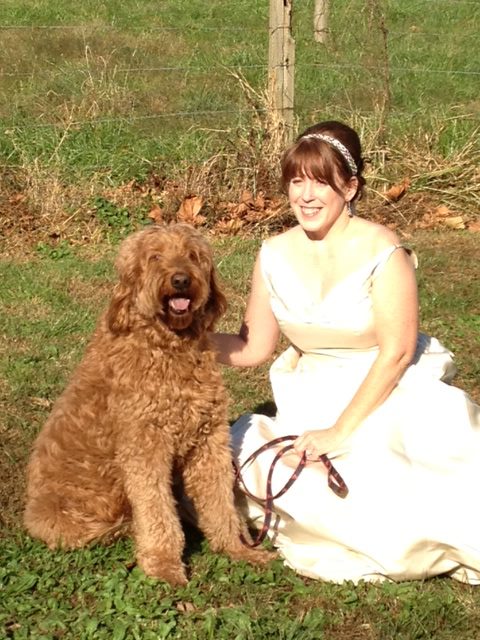 Hi Nancy, just wanted to share this picture of Dublin and I from my wedding earlier this month. I couldn't get married without his approval! ~Heather Milstead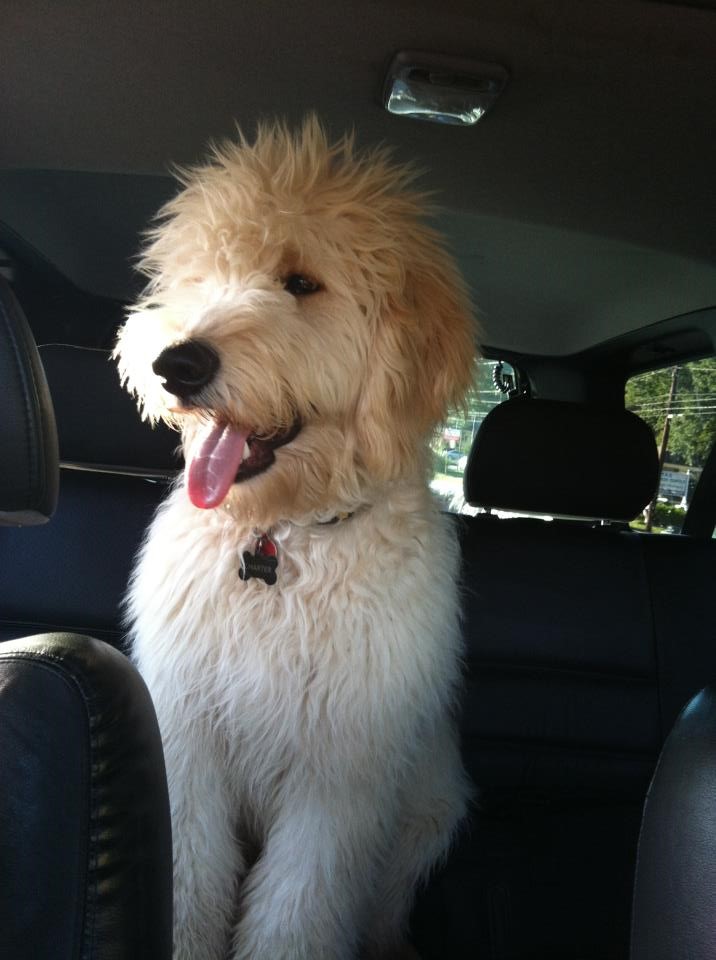 Charter has gotten so big!! We love our big teddy bear! ~Laynie Matthews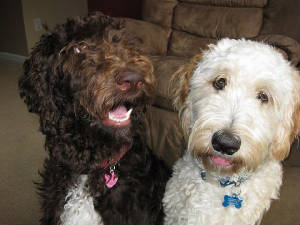 Hello Nancy & Dave,

We purchased two puppies from you last January; a male goldendoodle we named Barkley, and a female labradoodle we named Daisy. You may recall that we lost our beloved goldendoodle Max to cancer, and I was trying to fill the void in our family. Words cannot express how much joy and love Barkley and Daisy have brought to our family. My wife, kids, and I absolutely adore them! They are smart, happy, and loving dogs. They love our swimming pool and occasional trips to the beach. Anyway, I just wanted to pass along how happy we are to have them in our family, I have attached a picture for you to post on your website.

Thank you and may God bless you.
Adam & Stephanie Thomas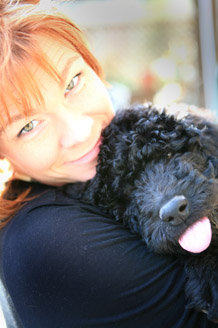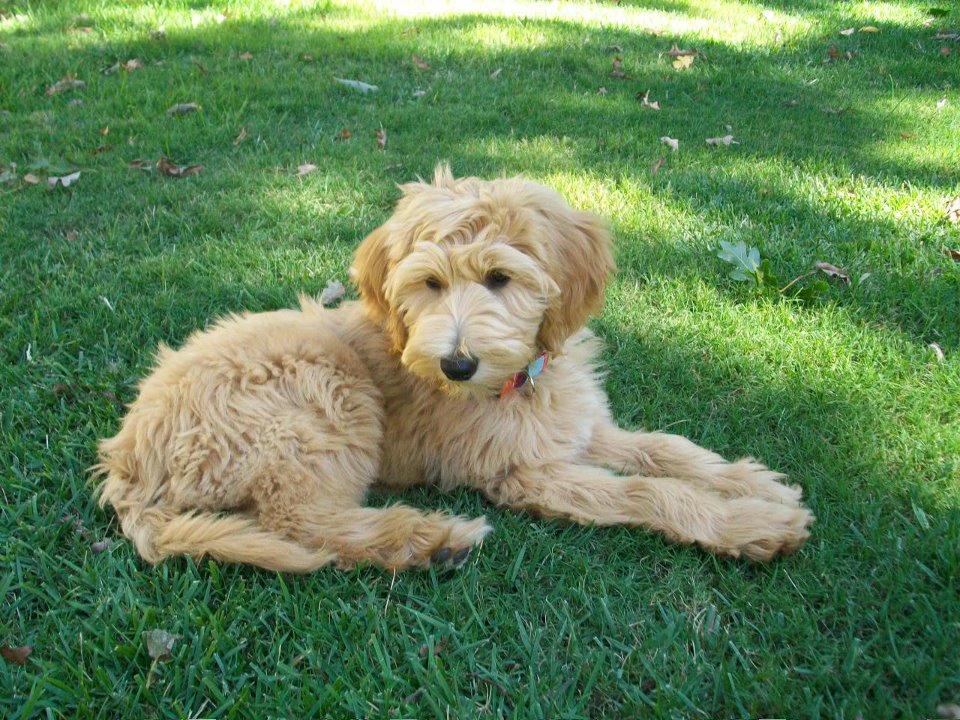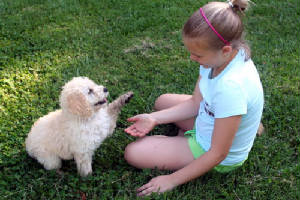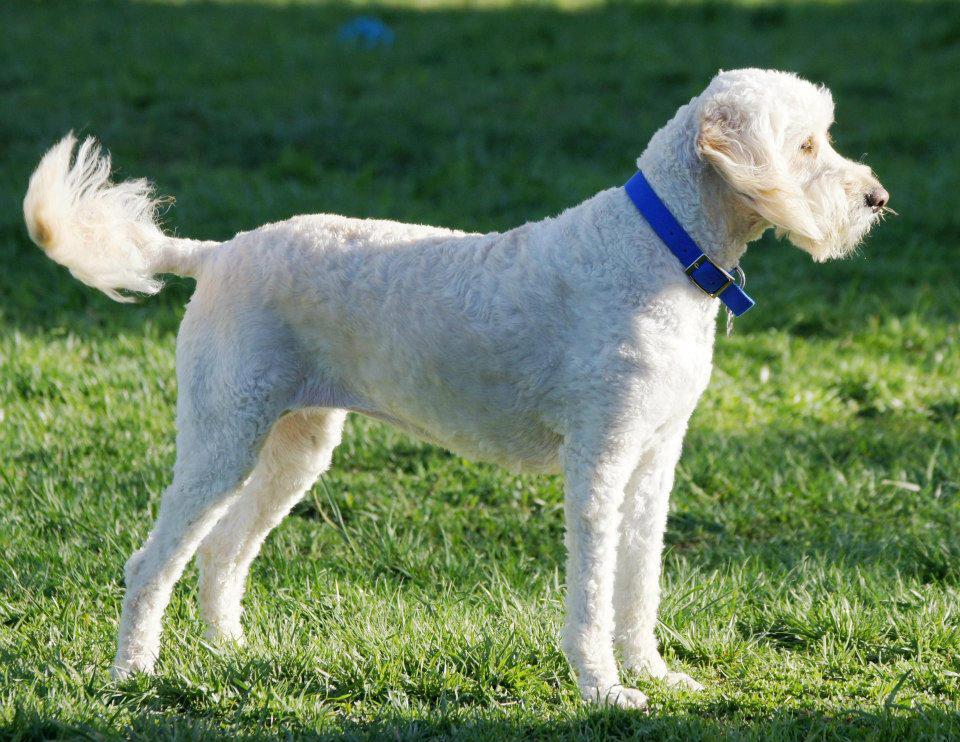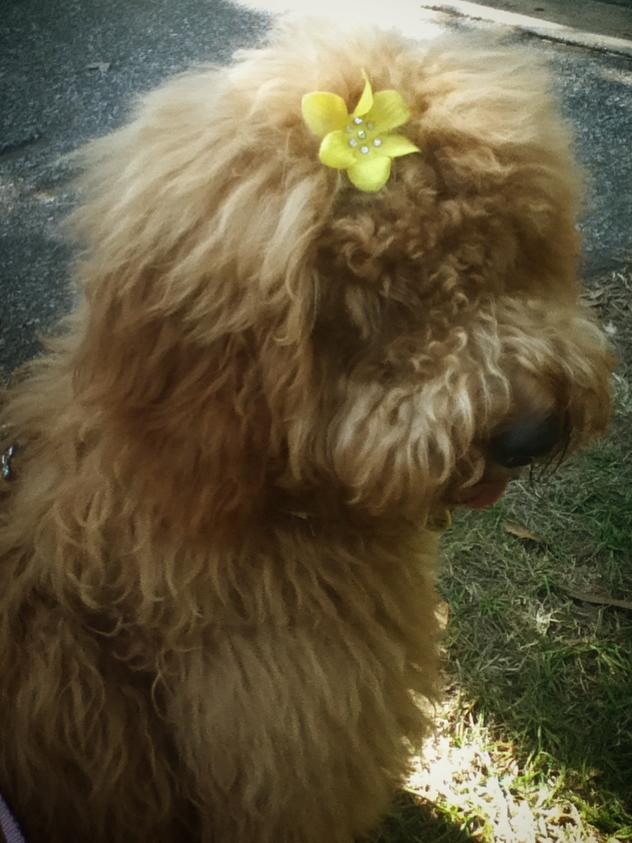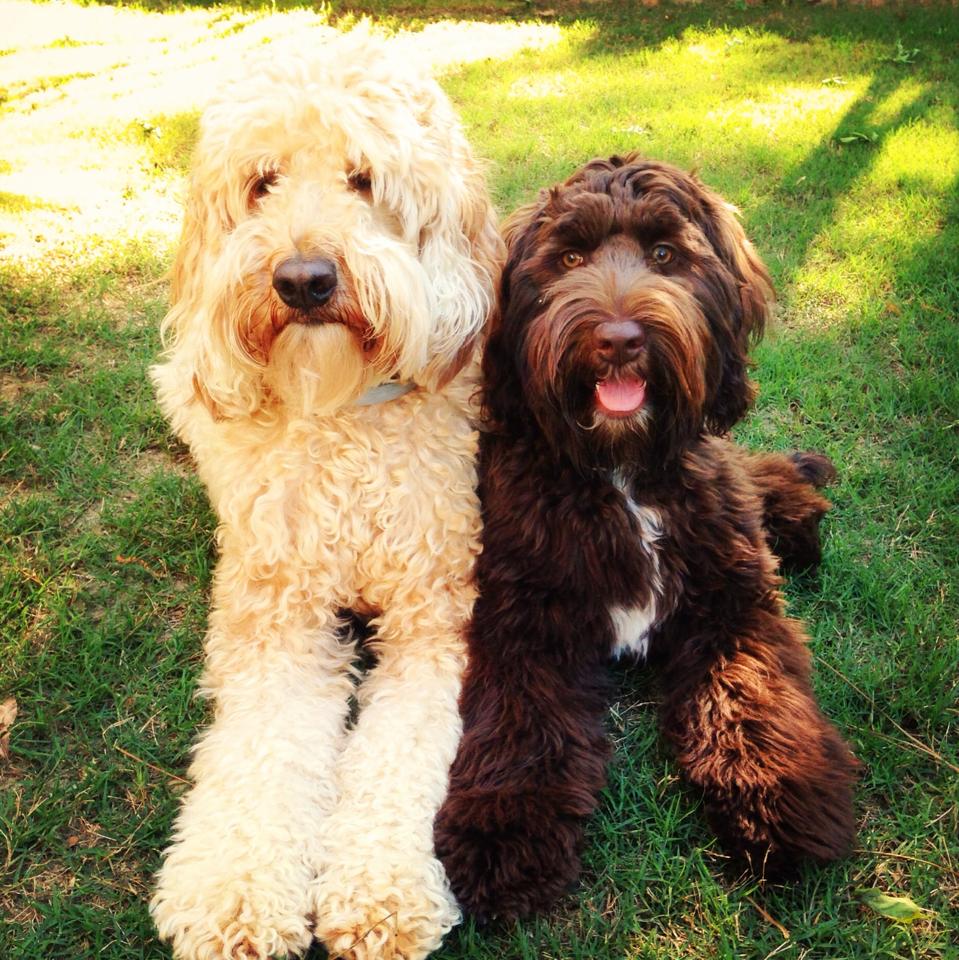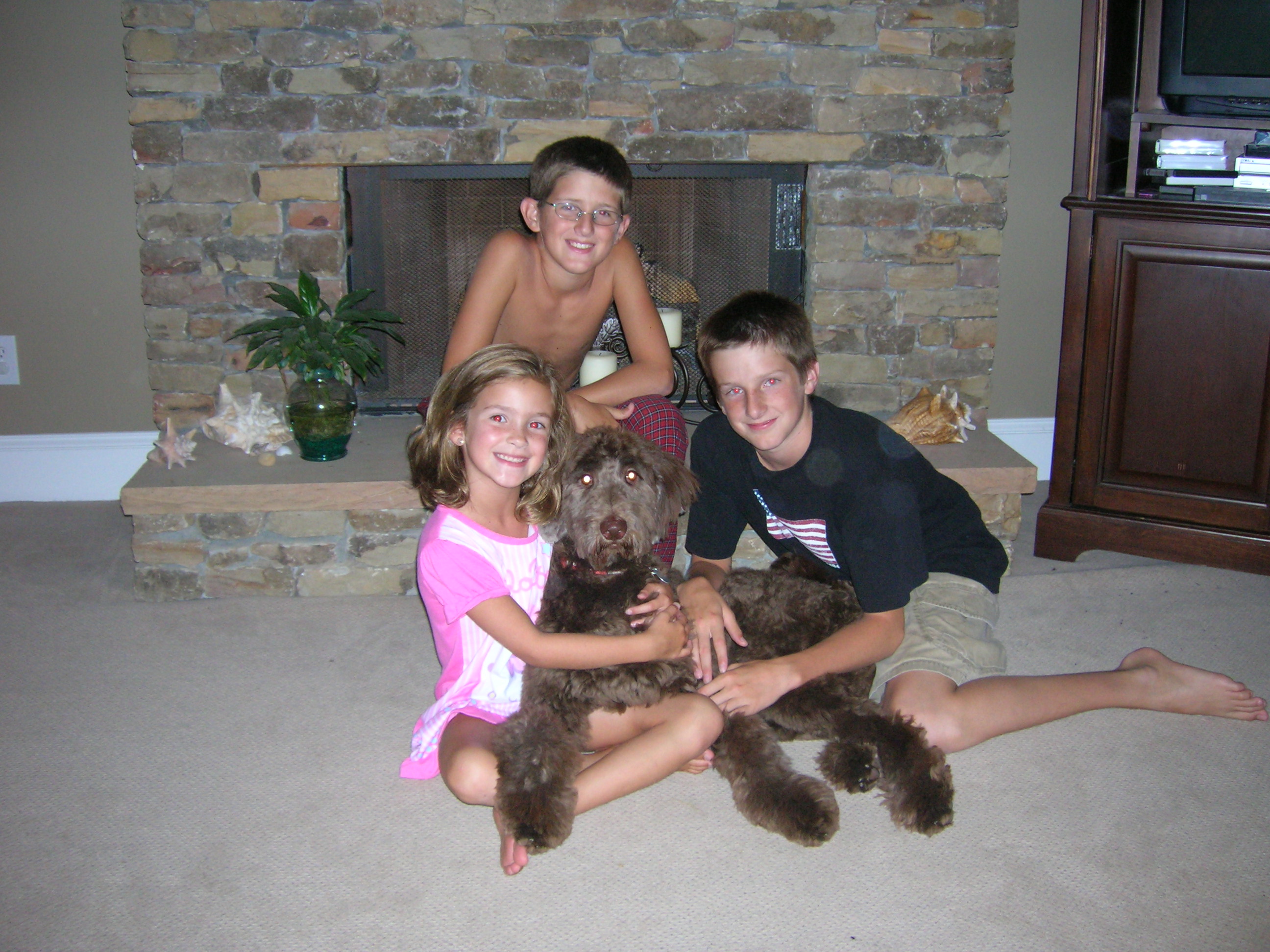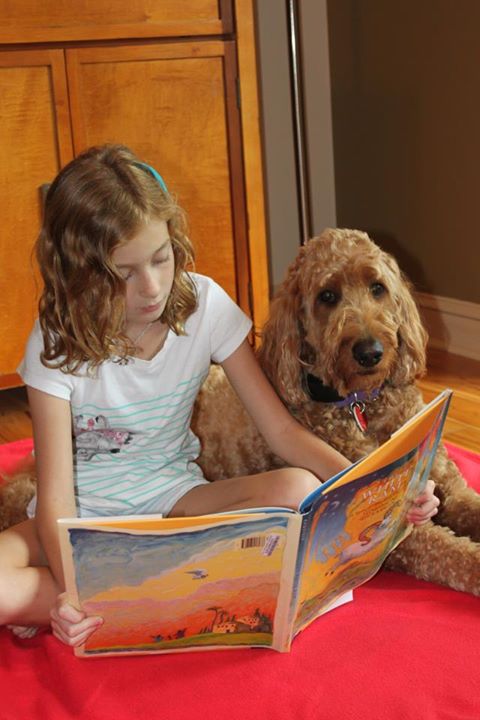 Here is a picture of my Daisy. We got her from you in 2007. She is a registered Therapy Dog, INC and READing Dog Paws dog. ~Love, love, LOVE my Doodle.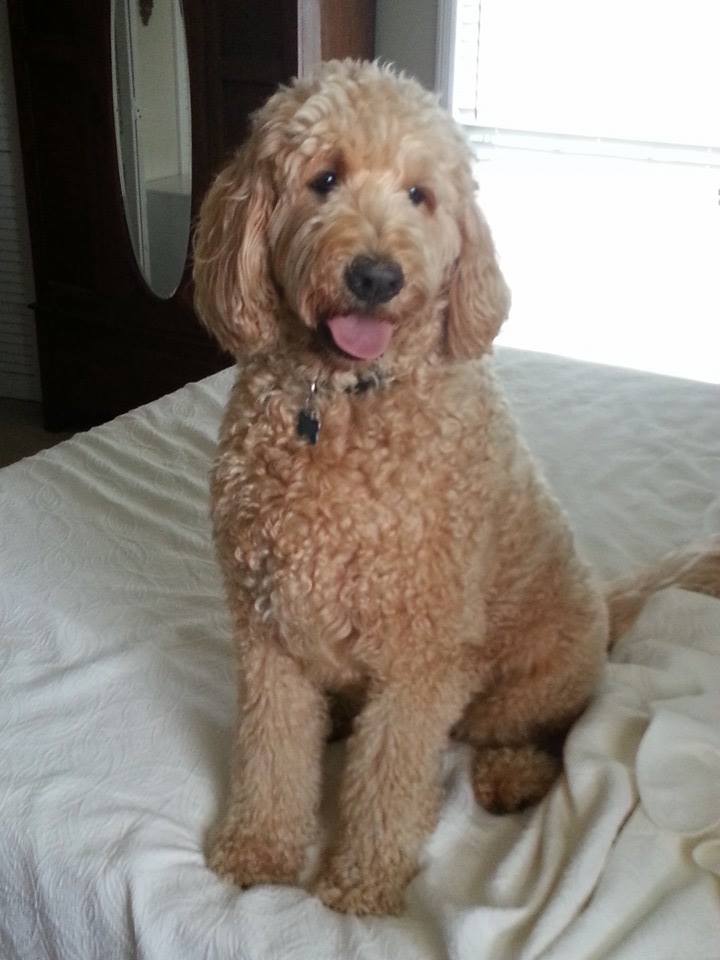 Our beloved Hank before his recent haircut. 86lbs. of love!! ~Steve Bohannon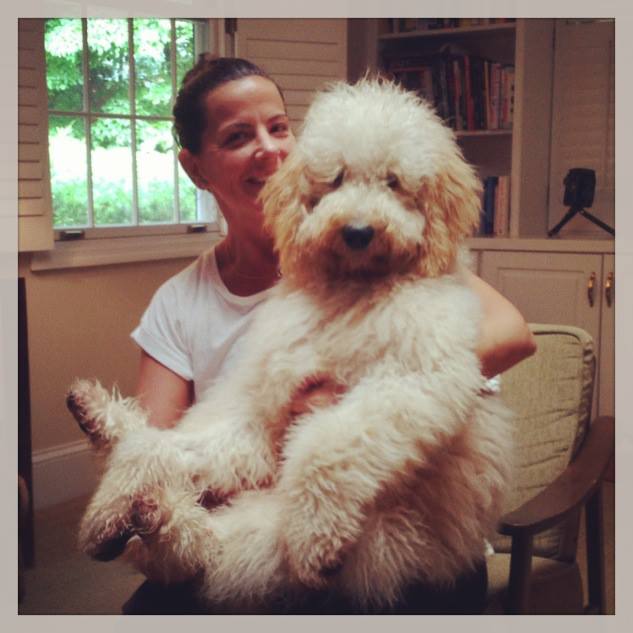 Hi Nancy! Just wanted to show off this picture of Milly! She's 9 months now! She's amazing....so smart & loving! We might be back for another! (: ~Michele Wise
Troy boy . Still looking for a play mate! ~Pam Foughty
Nancy, I wanted to share how well our addition is doing. Georgy and Hadley named him Coal Christmas morning. They were so surprised. He did great with our house full of company over the holidays. Everyone was so impressed with him and how well he was doing witht he kids. We are so impressed with how Coal is doing with training. He is already whinning at the back door when he needs to go out. We will keep you posted as he contines to grow. Dave, Denise, Georgy & Hadley Schnieders
Hi Nancy, Just wanted to let you know that Jak has assimilated quite well with our family. We've completely fallen in love with him. His temperament is very mellow but he is not content unless he is under our feet! He follows the children around and plops himself down at their feet as soon as they are stationary. We love that. He made the trip to Florida relaxed and lounging between the kids. The day we picked him up we took him kayaking and hiking- he slept all night after that :-) Thank you so much for our wonderful new addition, Jackson Alford Kreitz (Jak for short)! Amy Kreitz
Hi Nancy,
I hope this message finds you well. We are still completely in love with our "puppy" Dakota and so is everyone else that sees her! I thought you might want to see some recent pictures. She is a BIG girl, about 60 pounds and still growing. J We continue to sing your praises as the best Labradoodle breeder around!!!
All the best,
Tracy O'Leary
Nancy,Thank you so very much for allowing us to buy elley, she is the perfect addition to our family. I have some pictures of the both of them for you to see. Thanks again, you have to be one of the sweetest ladies ever.If you would like to use me as a reference for other buyers feel free. Thanks, Matt and Danielle
Dear Nancy, I don't know if you will remember our family, but about 2 years ago we lived overseas and I e-mailed you looking for our next member of the family. My parents came down from Chattanooga to pick out our little goldendoodle. I thought we would let you know just how loved she is…and what a great pet she is for our 5 children! Our "Annie" is playful and lovable and very gentle with everyone. As a matter of fact, you may be getting a call from my brother, who fell in love with Annie over the Christmas holiday. They just had to put their dog asleep that they had for about 15 years and are looking for another pet. I'm attaching some pictures so you can see what Annie looks like these days. Thank you again for all the help you gave me in choosing our pet! I truly appreciate it!
Nancy:I hope you are well, and enjoying the New Year. I wanted to let you know that Benny (aka, Creamy) is doing wonderfully. We LOVE her. She's so kind and gentle. My little girls really enjoy her, and even my wife (who's a bit shy around dogs) is smitten. Benny is about half-way house trained, right now, and has slept through the night since we brought her home. She can sit on command, and is generally enthusiastic about coming when called. She's getting a lot of attention and exercise. I'm attaching a couple of pictures, taken on Christmas Day. Once again, I want to tell you how much I appreciated doing business with you, and how grateful I am for our new family member. I'll try to send periodic updates on Benny's development. Graham
Nancy, This is Emily Shapiro. I just wanted to let you know that since we brought "Duke" home on Sunday he has been nothing but a joy. He gets along with everyone and he loves his crate that he sleeps in at night. He has had no accidents in it or in the house. He is perfect! He is so lovable and affectionate...you were right...thats all he wanted. All the kids smother him with kisses and hugs. He also knows how to catch a tennis ball and bring it back.( my son loves that!) I can't thank you enough for Duke! He is a perfect addition to our family! Emily Shapiro
Nancy,
I wanted first of all to thank you so much for your hospitality when Catie and I showed up so late at your house. Cheska (Chessie) is already a blessing and most beautiful gift to our family. I promise we'll love her more than she can even imagine… Anyways, I have a mom I work with, who has 2 little girls and a small lab. She saw Chessie today and fell in love. I sold her on her sister. I'm going to call you in the morning to make sure she's still with you guys, but we'd figure out a way to come get her this week. I'll call you in the morning.
And truly, thank you for such a wonderful little puppy. She's already showing what an affectionate, loving little personality she has. You all should be very proud!
Thanks. Cheryl Martin